About Me
Contact Me
You can contact me @ kberlie68@yahoo.com


GRAB MY BLINKIE!

http://kimskorner2010.blogspot.com/. Powered by
Blogger
.

Saturday, August 18
Alexa @ Whynters Whonders has made a new tutorial using my "Live To Ride" scrapkit. This tag goes with the previous post. It is a full set, forum signature tag, avatar, and tag. Be sure to go to her blog and do the tut and make yourself this set today. Awesome job Alexa! I love motorcycles and I love to RIDE DIRTY!!! I LOVE this set! Leave her some love when you visit her blog too please. This kit is now available in all my stores. Thank you so much Alexa!

Tag and Tutorial by ALEXA using "Live To Ride"
To go to her blog and do this tut, →CLICK HERE!
This is a 2 part tutorial including this tag and a forum set.
Look below at the next post below to see Part 2 of this tutorial and a preview of the kit used.
Thank you for looking!!
LIVE TO RIDE
available in stores now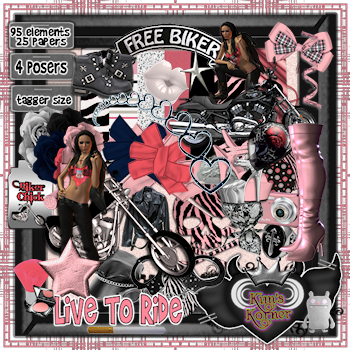 Kim's Korner


Blogs I visit often