About Me
Contact Me
You can contact me @ kberlie68@yahoo.com


GRAB MY BLINKIE!

http://kimskorner2010.blogspot.com/. Powered by
Blogger
.

Saturday, December 29
I have found a really awesome site that provides reviews and free stuff to you!! This is not an advertisement, this is just a blog entry. I just wanted to share this site so you can get free stuff too. My daughter's friend told me about it and I was reluctant at first. But I said what the hell, I might as well try it. The most that can happen is some spam email. I joined and within a month I got an email about a box of free goodies. All I had to do was fill out a survey that took literally 5 minutes. Then, I received my very first VoxBox last week. In it was a variety of good free items to test out. All you have to do after you receive a box is write reviews on the items they sent after you test them out. The site is completely FREE!! No need to complete offers to receive the free boxes either. The site is called "Influenster".
I have added a widget to the left of my blog as well so you can click it and go straight to the site or click the link above. Influenster is just a site for people that use everyday products. The more active you are on the site, the better chance you have of receiving free products. I am still new to the site so we can learn together!! I will be posting blog entries about the site as I learn more about it.
My very first VoxBox was the Holiday VoxBox. This is what came in it:
Goody QuikStyle hair brush (worth $11.99)
Kiss nail dress stickers (worth $6.99)
Quaker Real Medley's Oatmeal+ (worth $1.79 a cup)
NYC New York Color Liquid Lipshine (worth $2.49)
EBOOST (worth $28 for a box of effervescent powders, $38 for a box of 30 effervescent powders, $38 for a box of 12 shots.)
A coupon for Sole Society - $25 off first purchase of shoes.
So far, I have tried the Goody's hair brush and I love it! It has microfibers in and and functions as a brush and a dryer all in one. My daughter and I have been sharing it. I will have to buy her one so she will quit using mine!. lol! I have also used the nail stickers. They have lasted a pretty good while too. They were easy to put on and they look like I have a really nice manicure. The only complaint I have about it is the ends peel off where I filed them. It was my first application though, I might just need practice. I will definitely buy these again. I want every style!! I tried the energy boost with some bottled water. It was ok, but only because I like pink lemonade. It was very sour and left a bad taste in my mouth. I would not buy this again, especially after seeing the price. I still have the lipstick to test out and the coupon. The oatmeal was pretty flavorful. I am not a fan of oatmeal but ate a few bites of it. It was fun trying all these free products. My daughter and I had alot of fun sharing the products too. She now has her own account. You should try it too!! WHO DOESN'T LIKE FREE STUFF, RIGHT??!! lol! Well I will post more blog entries as I test other stuff in the future, as well as post my new products. BUT this is a blog where free stuff is always available and FUN so I thought I would share this with my blog followers as well. Look below for a few pictures of me and my daughter testing out all the stuff in my VoxBox. If you join and receive one too, please share your pictures and thoughts with me too. I would love to see my friends having fun and getting free stuff. My email is kberlie68@yahoo.com. Shoot me an email with your pics and I will post them here.
HERE ARE A FEW PICS WE TOOK OF OUR HOLIDAY VOX BOX
FROM INFLUENSTER
MY Kiss Nail Stickers after I put them on. That's my box in the background.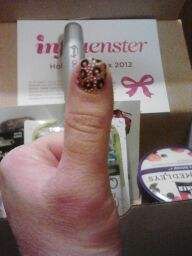 Me TRYING the Quaker Oatmeal
Me brushing my hair with my cool new FREE Goody's Brush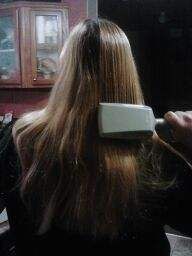 My daughter, Jennifer trying the EBOOST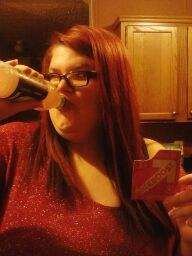 Jennifer's best friend, Karrie's box

Kim's Korner


Blogs I visit often