About Me
Contact Me
You can contact me @ kberlie68@yahoo.com


GRAB MY BLINKIE!

http://kimskorner2010.blogspot.com/. Powered by
Blogger
.

Tuesday, December 18
I have a new kit in stores! This kit is HUGE! (It is CT friendly too)
Time to party like it's 1999!! It's a PUNK PARTY!! This colorful kit is jam packed with 120 elements and 38 papers. Look below for a list of all the elements that come with this kit. Have hours of fun! Personal use only, tagger sized. Not all elements are shown in preview. Elements have been resized and drop shadows added for preview purposes only. Papers are not shown.

Thanks for looking!
PUNK PARTY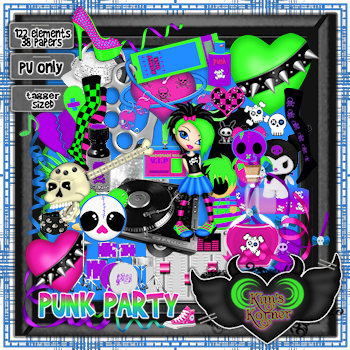 Elements Included in kit:
5 spiked hearts
4 broken heart charms
2 mended hearts
4 checkered hearts
4 frames
14 different curled ribbons
1 pair of brass knuckles
1 necklace with brass knuckles
7 different bandaids
4 collars
2 spiked shoes
1 pink converse
1 blue converse
1 headphones
1 equalizer
1 pink drum set
1 blue drum set
1 punk kitty
1 punk panda head
1 punk panda
1 punk puppy
4 stuffed animals
2 punk rabbits
4 girl skulls with bows
4 skull heads
1 boy
1 girl
1 heart-skull cluster
4 music note charms
1 piano keys
4 guitar picks
4 spiked guitars
1 black guitar
1 microphone with stand
1 record
1 DJ mix board
1 disco ball
1 pair silver boots
1 spiked wrist cuff
8 different stockings
1 silver hat
1 ribbon with skull bows
1 T-shirt
4 purses
4 fingernail polish bottles
6 bottles
1 backstage pass
1 ticket
1 punk spray
Visit my facebook fanpage here -
https://www.facebook.com/pages/Kims-Korner/134505946694275